For European scriptwriters, directors and producers developing a TV series project.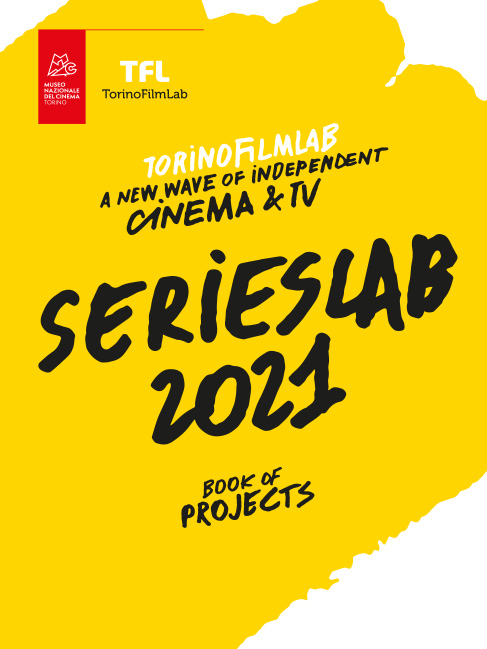 SeriesLab 2021 Book of Projects
QUICK FACTS
TARGET PARTICIPANTS: professional European scriptwriters, directors and producers. The course is aimed at fiction TV series projects at an early development stage.
DURATION: two 4-day-long residential workshops in June and November 2021, and one on-line workshop in September 2021.
FEE: 3.000 Euro (+ VAT, if due) per team (1 or 2 participants).
DEADLINE: February 10th, 2021, 12:00 p.m. CET (noon).
TorinoFilmLab launches the fifth edition of SeriesLab, an annual programme aimed at developing innovative and high-profile international TV series projects.
The lab stands out for involving all the main players involved in TV series production – scriptwriters, producers and TV broadcasters – and for offering a close link between scriptwriting process and TV industry.
It is open to up to 9 projects, which will join an intensive course – from June to November 2021 – and foresees 2 residential and 1 on-line workshops.

The lab follows the entire process of creation of a TV series concept, offering the support of highly qualified tutors and story editors in generating ideas and structuring the material, up to a final presentation in front of a selection of the major key players of the international TV industry, during a special event organized by TorinoFilmLab in conjunction with one of the main European TV series markets.
From this new edition, SeriesLab wants to empower the support offered to the producers of the projects selected, to develop and produce successful TV drama series for an international audience. During the workshops producers will have the chance to work on their projects guided by international experts and mentors.
The aim is to draft the treatment of the pilot and the concept presentation (mini-bible) of the project.
SeriesLab is realized thanks to the support of the Creative Europe - MEDIA Sub-programme of the European Union; in partnership with VAF - Flanders Audiovisual Fund thanks to which SeriesLab welcomes 1 project from the Flanders region of Belgium.
The final presentation of SeriesLab 2021 projects will be hosted by MIA, in Rome from 13-17 October.
SeriesLab is open to professional European* scriptwriters, directors and producers. Each participant can submit only 1 project, individually or in a team of two members; in exceptional cases a third participant (co-writer or attached producer) can join by paying an additional fee.
The programme is open to both original concepts and adaptations; in this second case the team must have secured the rights for the book or other work on which the series is based.
Candidates have to send a concept for a short or long TV series. Concepts for documentaries projects will not be accepted.
It is highly recommended to present the project together with a production company. The attached producer must join the workshops together with the team of authors.
Applicants must confirm their availability for the workshops and the final presentation.
The working language of all SeriesLab workshops, meetings and events is English; thus, a good knowledge of English is essential in order to participate.
* EU countries (Austria, Belgium, Bulgaria, Croatia, Republic of Cyprus, Czech Republic, Denmark, Estonia, Finland, France, Germany, Greece, Hungary, Ireland, Italy, Latvia, Lithuania, Luxembourg, Malta, Netherlands, Poland, Portugal, Romania, Slovakia, Slovenia, Spain and Sweden) + Iceland, Norway, Albania, Bosnia and Herzegovina, North Macedonia, Montenegro, Republic of Serbia, Georgia, Moldova, Ukraine, United Kingdom, Tunisia.
PARTICIPATION FEES & SCHOLARSHIPS
Course participation fee: 3.000 Euro (+ VAT, if due) per team (1 or 2 participants)*. ?A third participant (co-writer or attached producer) can join in exceptional cases, with an additional cost of 2.000 Euro (+ VAT, if due).
* This amount covers workshop training, on-line sessions, accommodation and subsistence during the workshops. Participants must pay travel costs. In many countries scholarships are available for this training.
A number of partial scholarships, covering tuition costs, will be assigned to participants coming from low audiovisual capacity countries**.
** Albania, Bosnia-Herzegovina, Bulgaria, Croatia, Cyprus, Czech Republic, Estonia, Georgia, Greece, Hungary, Iceland, Latvia, Lithuania, Luxembourg, Malta, Montenegro, North Macedonia, Norway, Portugal, Republic of Serbia, Romania, Slovakia and Slovenia.
 The requested materials – to be submitted all together in one PDF – are:
- logline (2 lines maximum)
- an updated CV for each participant (2 pages maximum)
- concept presentation (7.500 characters, spaces included)
- pilot outline structured in bullet points:
a) for 1' to 50' format 16-25 points and 7.500 characters (spaces included)
b) for 51' to 59' format 35-45 points and 10.000 characters (spaces included)
- producer's letter of interest (if the project has a producer attached, this document is mandatory)
- audiovisual approach documents (moodboard, etc.), if available
The material must be redacted using font Courier, 12 points.
Submitted materials should be in English or have English subtitles/translation.
Please click on the "Apply Now!" button in the right-side column of this page to access the on-line application form and submit your project. Before starting the application process, you will need to create an account on the TFL Visitor Page.
DEADLINE: February 10th, 2021, 12:00 p.m. CET (noon).
The selected projects of SeriesLab must indicate TorinoFilmLab support in the opening and closing credits, by displaying the TorinoFilmLab logo and the caption "The project has been developed during SeriesLab".
All the updates once a month in your mailbox, subscribe to the TFL newsletter.